Click on date below for Eventbrite ticket link
SUNDAY OCTOBER 1st 2-4pm DULWICH WALK
Who painted these murals and why? Discover the rich collection of the Dulwich Outdoor Gallery – many artworks are inspired by Old Masters from nearby Dulwich Picture Gallery. Hear about the unique styles of the artists old and new plus recent commissions in and around this vibrant South London community.
Amanda, a former Dulwich Picture Gallery guide and regular Dulwich Festival contributor, was a friend of Ingrid Beazley, (author Street Art/Fine Art), who instigated this unique project with Stik in 2012. We will hear how this came about.
featuring artworks by: Conor Harrington, Stik, Remi Rough, System, Catman, Mad C, Agent Provocateur, Beerens, DScreet, Mear One. Also local work by Will Vibes, Wild Armour, Ant Carver, Kit Neale, in and around Lordship Lane
Under 12's accompanied by adult (max 2 per adult – adult must be over 18). Not really suitable for walking under 5's due to pace and safety. Baby in Buggies & well behaved dogs welcome. You are responsible for your own safety on the roads & pavements.
2hr walk on the flat. Ends by Dulwich Picture House cinema, 116 Lordship Lane SE22 8HD and amongst the plenty cafes and restaurants to enjoy afterwards
insta:@dulwichstreetart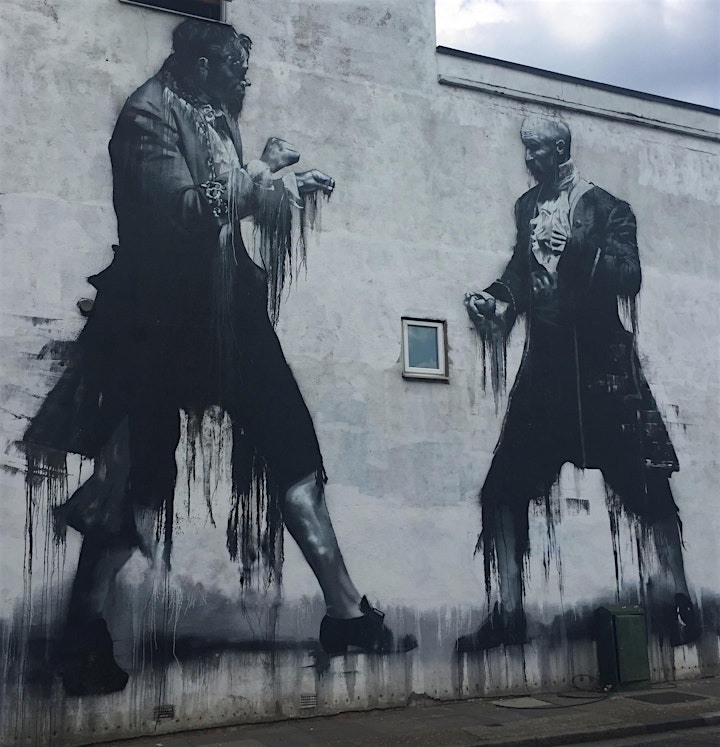 Dulwich Festival, Nunhead Art Trail and local groups.
PAST EVENT (Sept 23/24): To coincide with Nunhead Art Trail 2023, a walking tour around the Nunhead & Peckham area, South East London starting at Nunhead Green SE15 ending at Rye Lane by Peckham train station/Bussey building.
Recent groups WI, Brownies, Cubs, school classes, friends & family / birthdays
Family stop n sketch walks / Weekday lunch hour walks / 3hr walk also included entry into Dulwich Picture Gallery where I showed some of the original Baroque paintings the murals were inspired by.
contact me: info@dulwichoutdoorgallery.co.uk for a date / time to suit your bespoke tour.
PAST EVENTS: Dulwich Festival May 2023
https://youtu.be/SY15mX_MdDM check out this Virtual Dulwich Festival 2021 short film
"Amanda was fantastic. Really engaging and made the street art come alive for both my 12 and 10 year old. She made the day fun and was so flexible catering to some tired young legs and happy to stop off for an ice cream break. My son can quickly get bored in galleries but on this tour he was inspired to get his sketch book out, which is rare. Her enthusiasm for all things art and creative was infectious and has a wealth of knowledge. Would highly recommend the walk!"
visit facebook page posts related to our art/artists
I invited Catman back after I found a new location for his popular Queen & Corgis mural (previous damaged) in time for her Jubilee 2022 then poignant re her passing in September.
Get together a group of friends, family visitors, or a birthday tour – times to suit your events info@dulwichoutdoorgallery.co.uk Individuals to larger groups, all ages (max 30)
Peckham & Nunhead route also available (2 hr).
Mad C 's Van Huysum flowers now in East Dulwich August 2020, formerly in Belair Park read about it here https://arounddulwich.co.uk/street-art-walk-dulwich/
New murals by Remi Rough and Mad C (above) Catman's relocated Queen & Corgis